What's included?
Ongoing Consulting
You are busy, and financial issues come up all the time. You may not have the time, interest, or detailed knowledge to address them to your satisfaction. We are here to help you think these issues through. You also have to deal with people who influence your finances – attorneys, insurance brokers, banks, etc. We can help you make the best use of your time with them.
Retirement Income Planning & Management
As you approach retirement, we'll work with you as you decide for how much of your retirement income target you want minimal risk, and for how much you are willing to accept more risk in the hope of higher return. Then, we'll advise on how to modify your investment portfolio to prepare it for the transition from asset accumulation to retirement.
Annual Progress Review
Every year, we will assess your progress relative to your Integrated Financial Plan. We'll check on whether your savings are growing as the plan projects, and whether you are spending too much or you could actually afford to spend more. We'll monitor your progress on your key action items, and help you address any that have slipped.
What will this cost me?
Integrated Financial Advisory Fee Structure
| Assets | Quarterly | Annual Total |
| --- | --- | --- |
| Under $500,000 | $1,675 | $6,700 |
Assets

For Each

Additional Fee

From
To
Additional
Quarterly
Per Year
$500,000
$4,000,000
$250,000
$250
$1000
$4,000,000
Above
$1,000,000
$250
$1000
Annual fees for our Integrated Financial Advisory Service are frequently less than the 1% of assets charged by many advisors for portfolio management alone.
Integrated Financial Advisory Fee Structure (Detailed)
| Less than | Annual Cost | BPS* |
| --- | --- | --- |
| $500,000 | $6,700 | N/A |
| 750,000 | 7,700 | 103 |
| 1,000,000 | 8,700 | 87 |
| 1,250,000 | 9,700 | 78 |
| 1,500,000 | 10,700 | 71 |
| 1,750,000 | 11,700 | 67 |
| 2,000,000 | 12,700 | 64 |
| 2,500,000 | 14,700 | 59 |
| 3,000,000 | 16,700 | 56 |
| 3,500,000 | 18,700 | 53 |
| 4,000,000 | 20,700 | 52 |
| 5,000,000 | 21,700 | 43 |
| 6,000,000 | 22,700 | 38 |
*BPS are basis points. 1 basis point is 1 hundredth of a percent - .01%. 100 basis points is one percent.
Your annual review will focus on:
Cash flow
– Saving enough to retire comfortably, and spending enough to enjoy life now
– Balancing college savings opportunities with potential grant and loan eligibility
– Developing a well-diversified approach to provide sufficient income throughout retirement
– Making large purchases wisely (e.g., buying enough house, but not becoming "house poor")
– Making cash available when you need it while investing as much as possible
– Making the best Social Security decisions for you
Human capital
– Integrating your career plan and your financial plan
– Assessing financial implications of (actual and potential) income changes for your life plan
– Incorporating income fluctuations into your plan
– Making the best use of your employee retirement, life and disability insurance benefits
Investments
– Choosing the account types that best support your financial plan
– Balancing growth potential with desired asset stability
– Maintaining your asset allocation at the target you choose
– Adjusting your asset allocation target to respond to changes in your life situation
– Matching asset types with accounts to maximize after-tax income
– Choosing efficient investments to implement your plan
– Tracking the performance of your portfolio
Income tax considerations
– Choosing the right savings vehicles to maximize your tax savings
– Contributing enough to tax-advantaged accounts while limiting pressure on cash flow
– Incorporating income tax considerations in decisions to realize capital gains
– Taking advantage of investment losses to reduce income taxes
Estate plan considerations
– Enabling your family to cope even if you can't help make decisions
– Taking account of your heirs' financial needs and their capacities to deal with money
– Jointly maximizing the resources available to your heirs and your chosen charities
– Protecting your (and your heirs') assets from unfortunate contingencies
Insurance plan
– Ensuring that your family:
– Will have enough resources even if you aren't there to provide them
– Can cope if you can't work and earn income
– Can afford long-term care that might be needed
Orientation to investing depends on where you are in the lifecycle.
Your orientation towards investing will depend on where you are in your life-cycle. During your earning years, your focus needs to be on accumulation of assets. The emphasis at this stage is on investment risk and expected return. Most of your portfolio typically contains "at-risk" assets, like stocks and bonds, with a smaller part in cash. During retirement, the focus is on decumulation. The emphasis shifts to ensuring guaranteed, stable income for the remaining years of your life. More of your portfolio will contain safe, inflation-protected assets. The concept of investment risk applies only to those assets allocated for discretionary wealth (i.e. those assets not needed for a comfortable retirement).
The "risk / return" question is addressed in both types of portfolios but is more relevant to one's living standard during the earning years.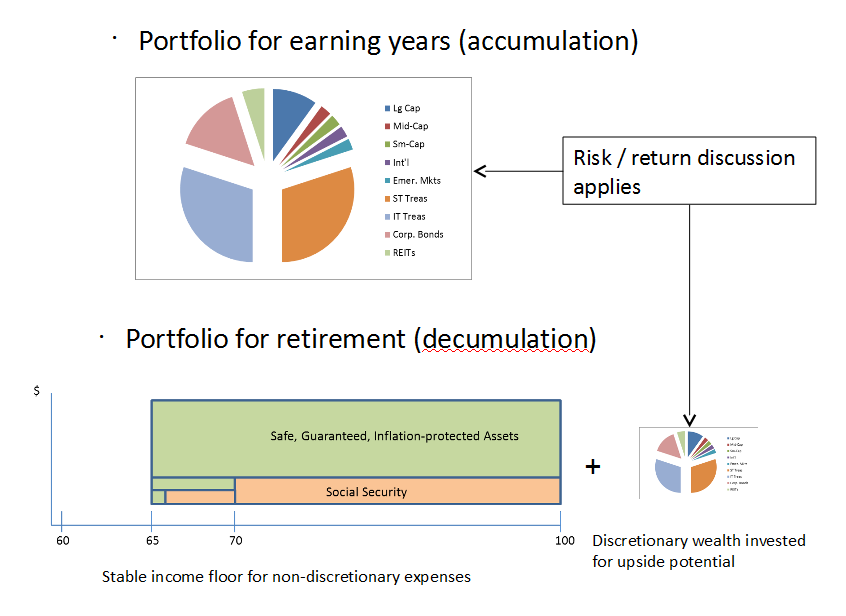 Retirement Portfolio – Emphasis for non-discretionary assets is on "flooring"
In your retirement portfolio, the emphasis for your non-discretionary assets should be on "flooring." A "floor" consists of stable, risk-free (or near-risk-free), inflation-adjusted assets or income that will be available every year of your life, in the amount and at the precise time when you need them.
Products typically comprising the floor:
TIPS ladder: A series of Treasury Inflation-Protected Securities (Treasury bonds whose principal adjusts with inflation) that mature at different times throughout retirement, providing necessary cash in the year of maturity.
Inflation-adjusted income annuities: An income annuity is a "private pension" that you purchase from an insurance company. In return for a lump sum, the company will pay you a monthly income, for as long as you live.
The floor fills in the gap that exists between Social Security and your remaining income needs.

Income Plan Approach
Your retirement portfolio should be totally income based, as opposed to spending based.
It should allow for variability in investment returns and inflation, but favor income distribution alternatives that only yield high confidence levels.
It should consider investable assets and inflation adjusted Social Security, commercial annuities and bond laddering.
A TIPS ladder would be composed of principal and interest (interest declines over time as bonds reach maturity). In some years, only interest will be paid because bonds don't necessarily mature every year.
All TIPS will reach maturity at or before age 100. The annuity income will continue for as long as you live.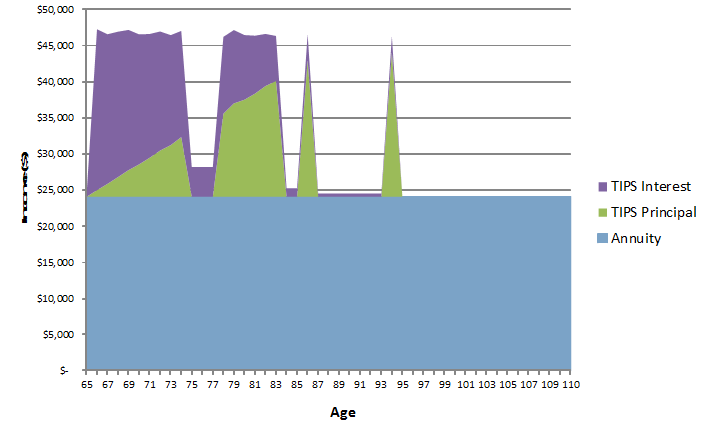 Sample financial issues that we will provide ongoing consultation for include:
Mortgages.

Should you refinance? 
Does paying down some or all of the principal on your mortgage make sense?

Retirement savings

How much should you contribute to your 401(k) or 403(b) plan?
Should you choose a traditional IRA or a Roth IRA, or some combination of the two?
Should you convert your traditional IRA to a Roth IRA conversion? If so, how much should you convert?
Should you borrow from your 401(k) plan?

College saving

How much should you save each year?
Should you use a 529 plan?
Which 529 plan(s) should you select?
How should you coordinate savings among grandparents, parents and children?
Our ongoing consultation also assists you in dealing with Financial Professionals, like
Mortgage Brokers

We work with you to consider whether refinancing makes sense and to compare different financing alternatives.

Estate planning attorneys

We help you think through your estate planning objectives and discuss them with your attorney to ensure your estate plan will meet them.
We also help you considering the real-life implications of different estate planning strategies.

Insurance brokers

We help you think through how much coverage you really need, and evaluate "riders" (special policy features) in light of your financial plan.

Insurance salespeople

We help you distinguish value from hype and fit what's proposed into your overall plan.

Tax accountants

We coordinate your realization of capital gains and support your tax planning.